Rubber & Coir Crosshatch Doormat - Regular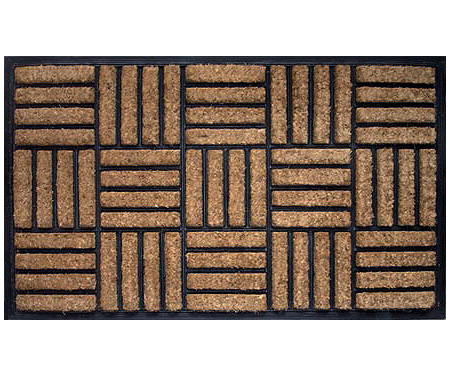 Rubber & Coir Crosshatch Doormat - Regular
$49.00
*Note that this is our best estimate based on current advice from the factory. This may change depending on their production schedule but we will keep you informed.
A clever design featuring horizontal and vertical stripes in a crosshatch pattern. The rubbber and coir make a great combination and the unusual design adds interest.
Made from rubber and coir (natural coco fibres), this door mat has excellent scraping properties and comes with a waterproof rubber backing and a slimmer profile than our standard doormats. Durable and well-made, these designer doormats will add the perfect decor touch to your entrance while also being superbly practical. The colour dye penetrates deep into the coir fibres for a longlasting finish and years of enjoyment.
Measures 75cm x 45cm and approx 3cm thick.
*To ensure best performance and longlasting beauty of your door mat, please make sure that it does not get excessively wet, let it dry quickly after being wet, and be aware that cats and birds scratching the door mat can damage it and lead to excessive shedding.

---
---

$74.95

---

$24.95

---

$19.95

---

$74.95

---

$24.95

---

$132.00

---

$29.95

---

$19.95