Blog
Yes - we are despatching daily!
At French Knot we believe that our community comes first. Caring for our staff, customers and colleagues like delivery drivers and suppliers is paramount. We always remind ourselves and our staff that we are working to live not living to work. So when the COVID-19 crisis started to escalate, we listened to the public health experts and took immediate steps.

How we are working
Since Monday 16 March all staff that can work from home have been working from home. That includes customer service. So please bear with us as we can no longer just pop along the shelves to check details products for you! We will have to ask the warehouse staff to do that and then get back to you with the answers to your queries.
Warehouse staff are distancing and working in shifts to reduce the number of people there at any one time and to ensure that appropriate sanitisation of the workspace can occur regularly. They say they miss the rest of us! We certainly miss them and we look forward to when the team can all be together again. So far everything is going smoothly and all despatches are going out seamlessly.
Australia Post and other couriers are also making sure to distance and reduce contact. They wash their hands thoroughly after loading and unloading their trucks. They should also be placing your deliveries on the ground for you to pick up so as to reduce the possibility of contact with your hands. Feel free to ask them to do so.
Delays due to COVID-19
Due to social distancing required in Australia Post's facilities, there has been a limit to the number of staff that can be working at any one time. This does mean there are some delays being experienced as the volume of parcels has increased. Please bear with us as our carriers do their best to keep their employees safe and to process the parcels and get them delivered as quickly as possible.
Warehouse visits
Please help us to maintain distancing if you visit the warehouse. We are required to ensure correct spatial distancing for the safety of our customers and staff and we do appreciate all the help you can give us.
If you do need to collect an order, we can place it outside the warehouse for you to collect but you will need to have paid for it online first. To check how to place an order for pick up at the warehouse, check our Deliveries page for details. Call us on 02 9146 4720 to arrange a suitable collection time as the warehouse may be open for shorter hours depending on the day.
Thank you!
Thanks so much for your understanding while we all adapt to all the changes necessary at a time like this. We hope you and your families stay safe and well! We are all on deck to answer queries so please feel free to email us at admin@frenchknot.com.au or give us a call on 02 9146 4720 and we'll be happy ...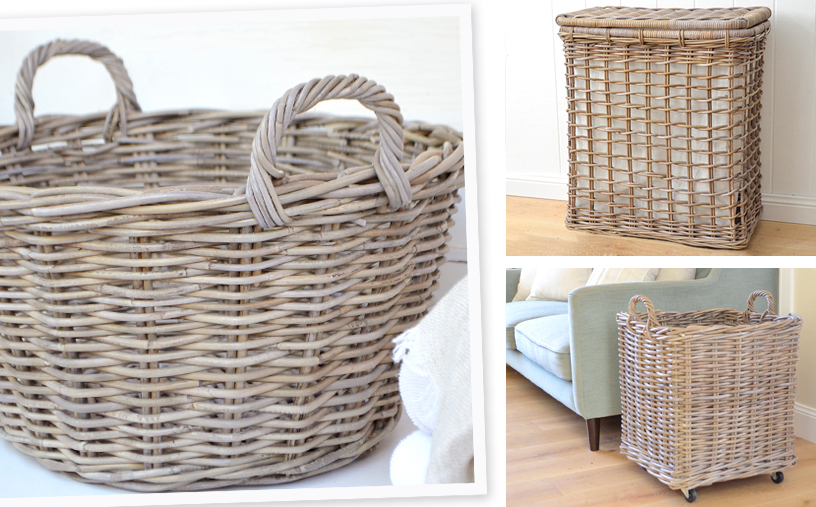 Beautiful Rattan Laundry Baskets Available
Get the perfect laundry with the wide range of rattan and woven wicker/cane items currently in stock at French Knot.
Made from beautiful handwoven cane, we have a variety of styles in a wonderful antique grey cane colour that is perfect for your country style or French Provincial look. Our range includes the popular Washing Basket (pictured above). A strong basket made from whole cane, this is a timeless classic that looks beautiful in your laundry and outside when you're hanging up your washing. Included in this stock is a great range of stylish yet functional laundry baskets.
Best sellers also include the Small Rattan Laundry Basket that is currently selling for $59.95 (check it out here). Great value for money, the pale greywash colour is sophisticated and subtle which the practical design with the hinged lid and cotton lining make it a lovely way to keep your home tidy and looking its best.
We also stock a range of other sizes and shapes that are also well priced. We have a medium sized version (similar to the small but bigger) for $69.95 and a large version for $79.95.
If you are after a different shape then you could opt for the round laundry basket for just $69.95 or the top of the range Porto laundry basket for $174.95.
Why not check out our amazing range today!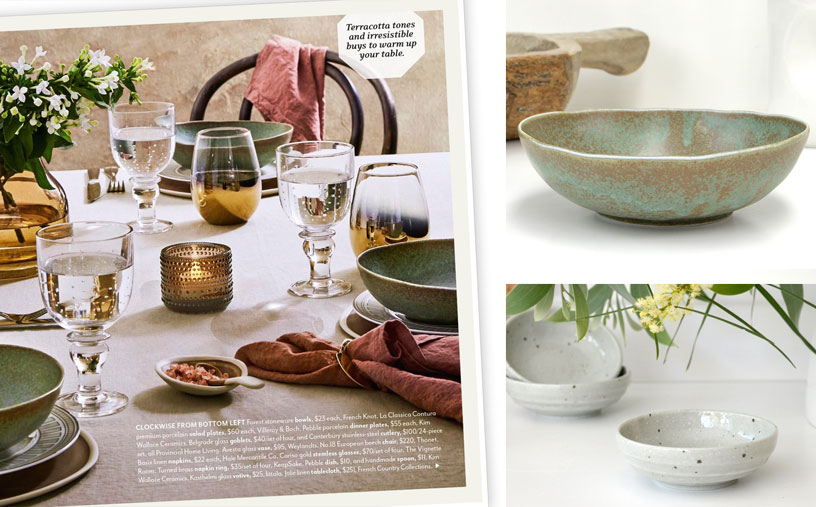 The hot trend in tableware is handmade ceramics. Gone is the plain white china. Today, meals at fine restaurants worldwide, and at our local cafes, are being served on gorgeous handmade dishes. These plates and bowls have amazing individual character and showcase the creativity of their makers. It's all part of bringing that artisanal experience to diners.
It's easy to achieve this look at home by buying a few key pieces and mixing and matching with other plates and dishes to create a unique look that suits your mood or the season.
Take inspiration from this amazing table setting in Australian House & Garden's June issue. Featuring French Knot's handmade ceramic Forest Bowls in green, they are teamed with other plates and glassware in autumnal tones to create the perfect setting for a warming winter feast.
See all our handmade ceramic bowls and plates in our Serving Bowls range and in our Dip Bowls range.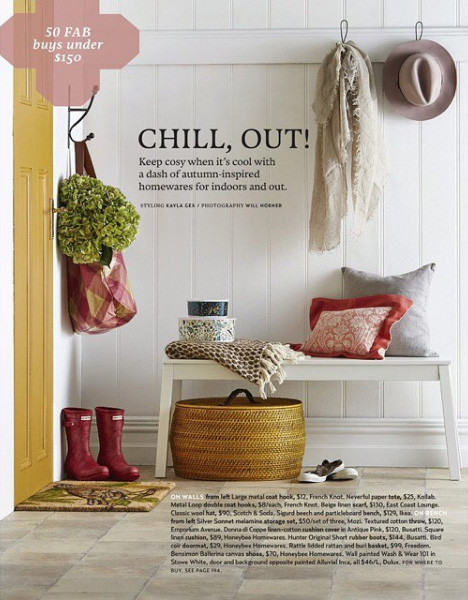 Here's a lovely shoot we forgot to post earlier. This gorgeous entrance way in House & Garden March 2016 issue features wall hooks from French Knot.
With an unerring sense of style, Alexia Biggs spotted how beautiful our Ambre Ash & Caramel Indoor Mat is. Featured in The Source in SMH's Spectrum on 5 November.
1 |
2
|
3
|
4
|
5
|
6
[Next]
[Last]