Stylish Adirondack Chairs Available Online
French Knot have just got new stock of the beautiful Adirondack style deck chairs. We are offering them to our online decor customers at an amazing price of $129.95.
You can see an Adirondack chair pictured below. Click here to shop now.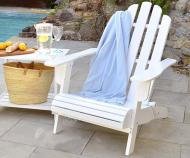 These beautiful classic American outdoor items that are sometimes called a Cape Cod chair have been designed based on the classic Westport chair that was created at the turn of the 20th century. The chairs that we are offering are made from hardwood and painted white with 3 coats of quality outdoor paint.

These chairs make the perfect addition to any garden and feature wide flat armrests that are perfect for placing a cool drink while you enjoy the ambiance of your outdoor space. We also have some beautiful tables that go with them.

If you want to get that Hamptons holiday feel with an Adirondack chair you can check out the French Knot homewares online listing here. Why buy one chair online when a matching pair would be twice as good!

Browse our collection
Our collection of gorgeous homewares is always growing and changing. Dive in and browse for inspiration now!
Shop Online