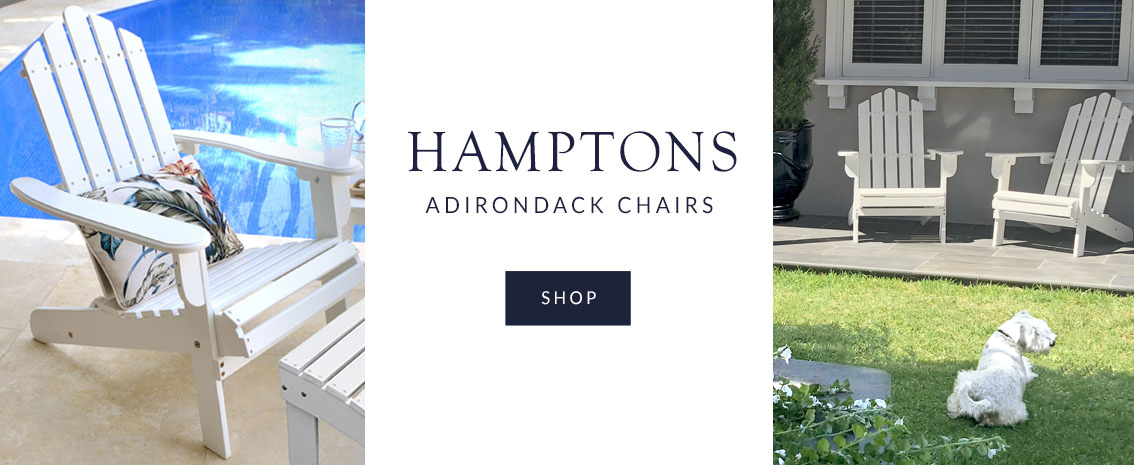 New! Hardwood Adirondack Chairs
New stock of French Knot's beautiful Adirondack style deck chairs has just arrived! Made from solid hardwood with a longlasting white painted finish, these are just $154.95 each. Also available in sets with matching side tables and footstools.
Stylish Adirondack Chairs Available Online
These beautiful classic American outdoor items that are sometimes called a Cape Cod chair have been designed based on the classic Westport chair that was created at the turn of the 20th century. The chairs that we are offering are made from hardwood and painted white with 3 coats of quality outdoor paint.
These chairs make the perfect addition to any garden and feature wide flat armrests that are perfect for placing a cool drink while you enjoy the ambiance of your outdoor space. We also have some beautiful tables that go with them.
If you want to get that Hamptons holiday feel with an Adirondack chair you can check out the French Knot homewares online listing here. Why buy one online when a matching pair would be twice as good!
History of the Adirondack Chair
The design (sometimes called the Cape Cod, Muskoka or frog chair) developed from a design that was originally known as the Westport that was created by a man called Thomas Lee in 1903. Thomas Lee had a country cottage in the New York state town of Westport (near the Adirondack mountains) and he had been looking for quite some time for some comfortable outdoor furniture that he could use on the porch of his cottage.
Thomas Lee built a number of different prototypes that were tested out on his family members. Each prototype was built from knot free timber that had been cut from the same tree. Of all of the prototypes tested the family liked a particular one with wide armrests and the gentle recline that we see in the modern version. Lee then settled on this prototype to take forward.
Lee showed the version that he had settled on to a local carpenter called Harry Bunnell that he was quite friendly with. Bunnell saw the potential in the design and started manufacturing calling the design the Westport Chair. Bunnell then applied for a US patent on the design and manufactured the Westport for the next 20 years or so.
In 1938 a man called Irving Wolpin applied for a US patent for a design that featured a more modern look with a rounded back and a more contoured seat. This design is closer in look to the modern Adirondacks or Cape Cod chairs that we see today.
Today there are a huge number of designs and variations of that original "Westport" however they are all quite identifiable and feature those recognisable slats and the contoured seat.
Here at French Knot
Decor
we have chosen a design that is both functional and visually appealing. Our design is made from hardwood and painted with UV resistant outdoor paint to ensure that you will be enjoying them for many warm summer nights.
We also offer some stylish and functional matching tables which would be perfect for putting your drinks or snacks on while you are making the most of the great Australian outdoors.
SYDNEY-BASED FRENCH KNOT ONLINE
By continually sourcing new homewares that are characterised by their classic style and affordable price we ensure that a beautiful home is within anyone's reach.
We love a timeless style that transcends passing fashions and incorporates both the classic and the playful. Surround yourself with the beautiful textures and colours of natural materials and enjoy the warmth of a beautiful home.
Shop Online