Hello 100% Coir Doormat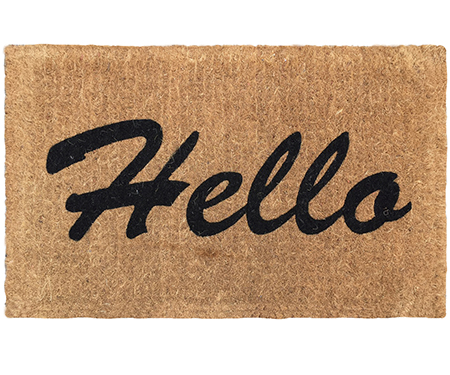 Hello 100% Coir Doormat
$64.95
A classic natural coir doormat in a regular size with the word hello in black on a natural background. Effortlessly stylish. Made from 100% coir this mat is handwoven and about 4cm thick.
Our coir doormats are thick and, made from natural coco fibres, have excellent scraping properties. Tough, durable and well-made, these doormats will add the perfect decor touch to your entrance while also being superbly practical.
Measures 75cm long by 45cm wide and approx 4cm deep.
*To ensure best performance and longlasting beauty of your door mat, please make sure that it does not get excessively wet and be aware that cats and birds scratching the door mat will damage it and lead to excessive shedding.
---
---

$74.95

---

$74.95

---

$74.95

---

$74.95

---

$74.95

---

$74.95

---

$64.95

---

$74.95