Millbrook Square Rattan Tray - Antique Grey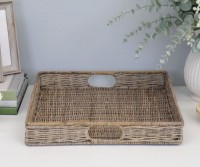 Millbrook Square Rattan Tray - Antique Grey
$44.95
Made from slender naturally aged rattan, this charming country style tray is perfect for showcasing favourite pieces. The lovely aged rattan gives this tray a lovely farmhouse feel. Features a handle at each side for easy carrying.
Measures 41.5cm by 41.5cm and 6cm deep.
*Note that as a handwoven item made from a natural material each one may vary slightly making each piece unique.
---
---

$64.95

---

$69.95

---

$59.95

---

$71.95

---

$154.95

---

$124.95

---

$95.00

---

$42.95