Whitewash Rattan Tissue Box Cover - Large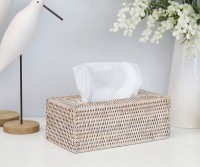 Whitewash Rattan Tissue Box Cover - Large
$39.95
This white wash rattan tissue box cover is a quick and simple solution to those ugly supermarket tissue boxes! Simply slip it on top of the box and make your tissues a harmonious part of your home decor.
This finely woven rattan product is beautiful quality, sturdy and finished with a rich brown finish that will complement any contemporary or country style interior.
This is a great gift idea for those loved ones who seem to have everything.
External dimensions: 10cm height, 14cm wide, 26cm long. Opening in the top measures approx 15cm by 3.5cm.
Note: This is a handmade item so there can be slight imperfections in the weaving and small variations between items. This is the nature of handmade woven items and should not be considered faults.
---
---

$19.95

---

$44.95

---

$120.00

---

$99.00

---

$24.95

---

$14.95

---

$29.95

---

$49.95