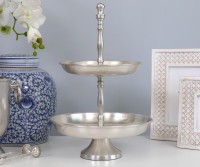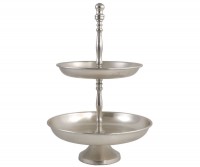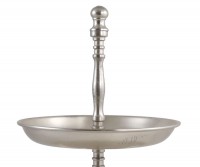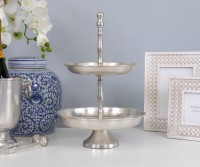 Pennington 2-Tier Tray Stand
$109.95Choose Giftwrap
The most elegant tiered tray stand with classic style and character. 
Made from pewter, this lovely 2-tier tray stand has that classic soft silvery sheen of this traditional material. It looks beautiful placed on a sideboard and would be a stunning way to serve wrapped chocolates at the end of a dinner party or at Christmas. Imagine these trays filled with the pretty foil wrappers of luxury chocolates.
Features:
Measures approx 38cm tall
Bottom tray approx 26cm in diameter
Top tier approx 21cm in diameter
Crafted to look like an antique so the finish comes with a characterful aged effect
Note that pewter is a soft metal so treat it carefully to prevent dings and scratches. It will gradually oxidise over time so you will need to polish it from time to time with a suitable polish. 
---
---

$64.95

---

$67.95

---

$75.95

---

$129.95

---

$99.95

---

$74.95

---

$59.95

---

$94.95