Bradfield Tin Pots in Wire Basket - Black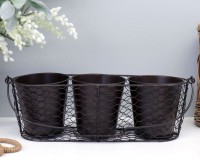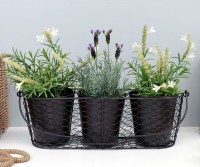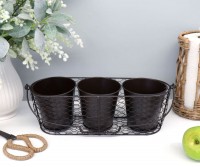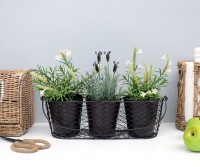 Bradfield Tin Pots in Wire Basket - Black
$44.95
Add a fresh and creative touch to your storage or herb plants with this gorgeous farmhouse style wire caddy with three tin pots inside. The three pots are made from metal and sit inside a light chicken wire basket with folding handle. Comes with a charcoal grey-black finish.
A versatile piece, this can be used as a planter for herbs on your kitchen window sill, or as storage for utensils in the kitchen or garden shed. Or even in your study as a cute country style storage pot for paintbrushes, pens or other handy items.
Overall length of this caddy is approx. 42cm long, 14cm wide and 27.5cm tall. Each of the little pots measures approx 12cm tall and 13cm in diameter. This piece is intended to have a rustic farmhouse style so minor imperfections are intended and should not be considered faults.
*Note: the raw metal is not waterproof. To use with plants or flowers you will need to use plastic pots or glass inside.
---
---

$19.95

---

$99.95

---

$64.95

---

$29.95

---

$39.95

---

$24.95

---

$9.95

---

$19.95