Tilbury Tin Caddy / Planter Pot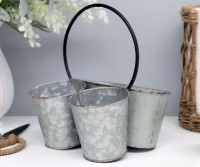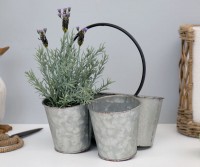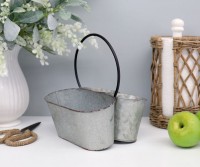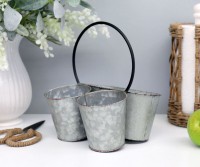 Tilbury Tin Caddy / Planter Pot
$34.95
Made with a great vintage style, this gorgeous tin caddy has great character and a vintage farmhouse look. With two pots on one side and a long pot on the other, they are joined together to create a handy carrier with a black handle over the top.
This versatile piece can be used as a planter or it's great as a storage pot on your desk or in your kitchen. Also a lovely way to serve sauces and cutlery at the table.
Pop little glasses inside and keep your fresh herbs or flowers on display.
Measures approx 23cm long, 22cm wide and 26cm tall including the handle. The small pots measure approx 10cm tall and 10cm wide at the top, 7cm wide at the bottom. The large pot measures approx 22cm long, 11cm wide and 10cm tall.
*Note that this item is not waterproof. To use with fresh plants or flowers you will need to place plastic pots or glass inside.
---
---

$64.95

---

$29.95

---

$49.50

---

$64.95

---

$14.95

---

$49.95

---

$34.95