Empire I Blue & White Vases - Framed Canvas Painting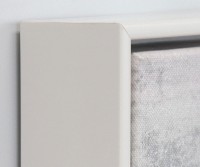 Empire I Blue & White Vases - Framed Canvas Painting
$209.00
Capture a light and airy coastal Hamptons style with this gorgeous large painted canvas. Featuring two classic blue and white chinoiserie vases filled with tropical leaves, this creates a wonderful fresh ambience. Printed onto the canvas, this artwork is then hand painted to create a unique look with thick paint and bold brushstrokes. Because this painting is hand finished, each one is a unique piece.
Measures 63cm by 93cm and approx 4cm thick. Painted onto a stretched canvas and framed in white.
Coordinates with the matching Empire II Blue & White Vases Framed Canvas Painting.
---
---

$144.00

---

$105.95

---

$54.95

---

$33.95

---

$9.95

---

$51.95

---

$165.00

---

$110.00