X Alphabet Letter Hook - X Wall Hook Cast Iron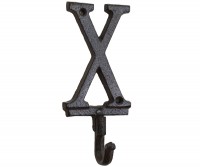 X Alphabet Letter Hook - X Wall Hook Cast Iron
On Sale 40% OFF
$7.75 $12.95
A gorgeous traditional style cast iron wall hook topped with the letter X. These are great to use as a coat hook or school bag hook. Spell out words or the initials of family members in your hallway, bathroom or mudroom.
Each one measures approx 15cm long and 6.5cm to 7cm wide (depending on the letter). Made from cast iron with a vintage style dark brown finish.
Designed to be screwed to your wall (screws not included).

---
---

$8.95

---

$13.25

---

$7.75

---

$7.75

---

$7.45

---

$29.95

---

$11.95

---

$12.00