French Market Basket - Double Brown Handles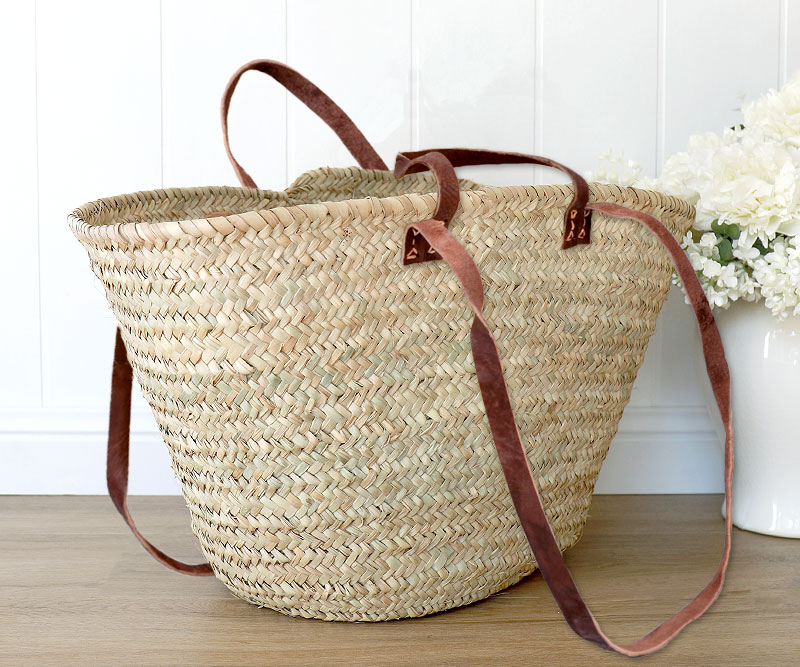 French Market Basket - Double Brown Handles
$39.95
The classic French market basket made from palm leaves is perfect for everything from trips to the beach to picnics and shopping. The market basket is a classic design that looks fabulous and is much loved by French women as an everyday shopping bag.
These baskets are also perfect for storage around the house. Wherever you find piles of stuff gathering, put one of these baskets and your home is instantly refreshed! They make beautiful laundry or toy baskets for example, and also storage for extra throws and pillows by the sofa or in your guest bedroom.

Handmade in Morocco from palm leaves this large basket measures approx 50cm long, 27cm wide and 34cm high. Comes with double brown leather handles as shown so it can be used over the shoulder or with the short handles for carrying in your hand.

Note that as handmade items, exact dimensions can vary slightly from one basket to another.
Basket care

If properly cared for, your basket will last for a long time. If it gets dirty you can wash it in soapy water (but do not leave it in water for more than five minutes), allow it to drain and then hang it up to dry. Drying in the sun is especially good.

The basket is fine to use for wet clothing such as washing or swimming gear. Just be sure to let your basket dry thoroughly after it gets wet to prevent mould – being made of a natural fibre is does not like to remain wet.

Wetting it also allows you to reshape it if for any reason it loses its' shape over time.
If the leather gets dirty, clean with a little leather soap but keep in mind that age adds character to your basket.

Because the baskets come packed in stacks of 25-50 baskets, the base of some baskets is flatter than others. The base of the basket gets flatter with use. However, if the base of your basket needs to be reshaped a little after shipping, wet the bottom of the basket, reshape it, and let it dry thoroughly.
---
---

$29.95

---

$44.95

---

$31.95

---

$38.95

---

$29.95

---

$34.95

---

$39.95

---

$54.95