Alexandra Double Hoop Earrings - Silver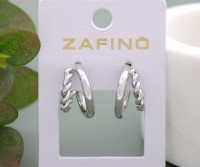 Alexandra Double Hoop Earrings - Silver
$29.95
Perfect for getting the double-hoop look when you don't have double piercings. The gorgeous Alexandra Double Hoop Earrings are absolute beauties. They feature one larger plain hoop and a smaller rope-twist hoop to create the double-hoop style.
Measures approx 22mm long and 10mm wide.
Nickel-free hypoallergenic alloy with silver plate.
---
---

$12.00

---

$35.95

---

$44.95

---

$44.95

---

$39.95

---

$29.95

---

$29.95

---

$34.95