Adirondack Folding Cape Cod Chair
Adirondack Folding Cape Cod Chair
$134.95
Get that great Hamptons holiday feel all year round with this beautiful white Adirondack outdoor chair. Based on the classic Westport chair designed at the turn of the century in the USA, these pure white timber chairs create a wonderful, relaxed summer ambience in your outdoor space.
Specifications:
Acacia hardwood construction
Flatpacked with easy assembly instructions
High quality corrosion resistant hardware
Quality outdoor white painted finish
Measurements:
Chair: 80cm from front to back, 89.5cm tall, 74cm wide
Sometimes called Cape Cod chairs, Adirondack chairs feature flat, wide armrests where you can easily rest your drink or small plate - making them ideal for outdoor entertaining.
Care for your furniture

This is a quality paint finish but as with all painted and wooden furniture, the more they are exposed to the elements, the more quickly wear and tear will occur. To refresh your chairs if they have been exposed to the sun and rain for a period, you can sand and recoat with outdoor paint. Best results will be achieved if these furniture items are kept under cover on a porch or verandah. Putting your outdoor furniture away during the winter months is necessary to prolong the life of the painted finish.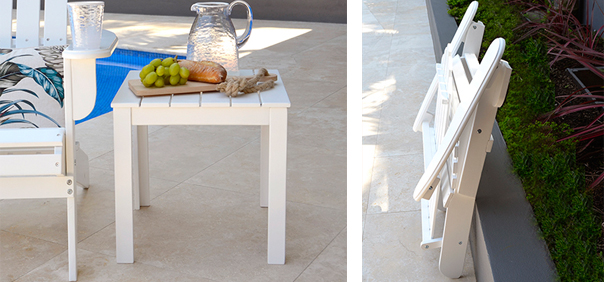 This Adirondack chair has a foldable design for easy storage and comes flatpacked with easy assembling instructions, Allen key and all high quality outdoor corrosion resistant screws and bolts included.

Made from Acacia hardwood, they are painted with a fresh white high quality outdoor paint for that classic Hamptons look. Finished chairs measure 80cm from front to back, 89.5cm tall and 74cm wide in total.
Want to collect?

You're welcome to collect your items to save on shipping. To do so, when you've added the chairs to your cart, you will see an option to Collect. Choose this option and then proceed through checkout as normal.

You'll then be able to come to our warehouse at Unit 7, 53-55 Lorraine Street, Peakhurst NSW 2210 to collect your items. The warehouse is open between 9.30am and 4.30pm Monday to Friday.
---
---

$195.00

---

$335.00

---

$155.00

---

$389.95

---

$184.95

---

$284.95

---

$425.00

---

$295.00