Sacramento Mother of Pearl Inlay Box - Small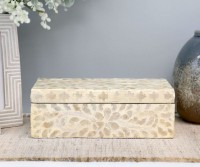 Sacramento Mother of Pearl Inlay Box - Small
$49.95
This stunning large decorative box is covered in an intricate pattern of inlaid mother of pearl shell. This is a timeless piece of enduring beauty that will shout out style from a side table or dressing table, or would be a lovely gesture as a wedding gift. The ivory colour and gorgeous iridescence of each individual piece of natural shell comes together in the pretty floral designs to make an impressive statement piece.
Measures approx 19cm long, 14.5cm wide and 10cm tall.
Larger size also available.
---
---

$34.95

---

$5.95

---

$39.95

---

$69.95

---

$59.95

---

$54.95

---

$19.95

---

$29.95