Chambord Gardens Oval Planter Pot - Small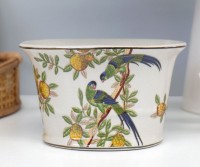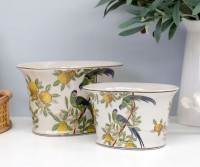 Chambord Gardens Oval Planter Pot - Small
$39.95
A classic planter pot with beautiful detail, this oval ceramic pot is decorated all over with a handpainted design of green parrots with vibrant blue wings and tails perched on a branch laden with yellow fruits and green foliage. Creating a gorgeous traditional style, it features a light crackled finish and gloss glaze. Has a drainage hole with a rubber stopper.
Measures approx 21cm long, 12cm wide and 14cm tall. Has a drainage hole in the bottom and a rubber stopper.
Note that as this is a handmade item, slight variations may occur between items. These add to the individual character of the pots and should not be considered faults.
---
---

$39.95

---

$34.95

---

$31.95

---

$29.95

---

$34.95

---

$24.95

---

$29.95

---

$34.95